G.I. Joe vol. 3
From IDW Hasbro Wiki
Jump to navigation
Jump to search
The name or term "G.I. Joe" refers to more than one character or idea. For a list of other meanings, see G.I. Joe (disambiguation).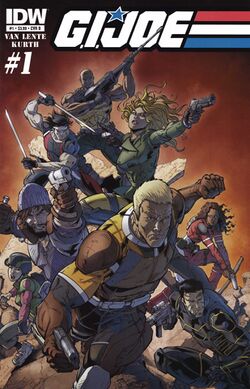 G.I. Joe vol. 3 is a 2013-2014 ongoing comic series published by IDW Publishing, following on from the previous volume; following the reveal of G.I. Joe's existence to the world, the Joes are reformed into a public team under General Joe Colton, taking the fight to Cobra on American soil.
Overview
[
edit
]
Creative team
[
edit
]
The majority of the series is written by Fred Van Lente, with Paul Allor taking over from issue 12 onwards. Art duties are mainly handled handled by Steve Kurth on pencils and Allen Martinez on inks, with Jamal Igle and Juan Castro taking over for issue #6; various artists were responsible for the anthology stories in issues #13-14. Colors are primarily by Joana Lafuente.
Collections
[
edit
]
Contains issues #1-5.
Bonus material unknown.
G.I. Joe Volume 2: Threat Matrix (February 12, 2014) ISBN 161377866X / ISBN 978-1613778661
Contains issues #6-11.
Bonus material unknown.
Contains issues #12-15.
Bonus material unknown.