Agent Helix
From IDW Hasbro Wiki
Jump to navigation
Jump to search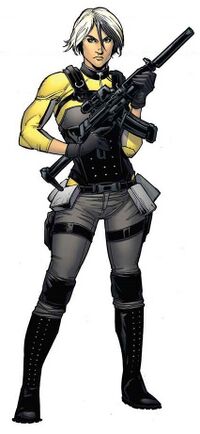 Agent Helix (also just Helix) is a member of G.I. Joe. Much of her personal information, including her real name, is classified, with only a select few knowing anything about her. What is known is that she is possessive of a unique ability known as "Total Battlefield Awareness", able to make remarkably quick calculations regarding any data set present on the battlefield. Helix is also an expert marksman, an Olympic-class gymnast, and a master of multiple forms of martial arts.
Scarlett recalled Helix's presence in G.I. Joe during their war against Cobra. Secret Raiders

When G.I. Joe was reinstated to take down Optimus Prime, Helix was part of the unit led by General Joe Colton to Portland, Oregon. When the Joes engaged the Transformers, Helix attacked the Autobot Combiner Victorion. Concorde Hymn

The Divine Source of Liberty

The Modern World

The New Colossus

Valley Forge

G.I. Joe vol. 5 #1

Helix was designed by Mayan Escalante for the video game tie-in to the 2009 film, G.I. Joe: The Rise of Cobra, developed by Double Helix Games (hence her name). She soon received an action figure and was introduced into the IDW comic book series around the same time.