Jem: The Misfits
From IDW Hasbro Wiki
Jump to navigation
Jump to search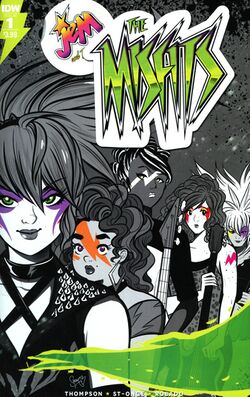 Jem: The Misfits is a comic miniseries begun by IDW Publishing in December of 2016. It is a spinoff from IDW's Jem and the Holograms focused on The Holograms' rival band The Misfits.
Jem: The Misfits issues:
»
Overview
[
edit
]
After getting dropped by 5x5 Records, The Misfits face an uncertain future. With no other record labels willing to touch them thanks to Pizzazz's scandalous behavior, The Misfits discover that they only have one option to save the band... a reality TV show! However, the increased scrutiny that comes with the five of them being forced to live together with an ever present film crew shining a spotlight on their deepest secrets and inner struggles might turn this show that was supposed to keep them together might become the thing that tears them apart...
Creative team
[
edit
]
The series is written by IDW Jem writer Kelly Thompson with Sophie Campbell stepping in to cowrite the third issue with Thompson. Art duties for the series fall to Jenn St-Onge. M. Victoria Robado returns as colorist from the main book and also illustrates the regular cover for each issue.
Collections
[
edit
]
Contains issues 1-5
Bonus material: CURRENTLY UNKNOWN