Jem and the Holograms: Dimensions
From IDW Hasbro Wiki
Jump to navigation
Jump to search

Jem and the Holograms: Dimensions was a short-lived 2017-2018 anthology comic series from IDW Publishing. The book featured a rotating series of artists and writers telling stories that take place in a variety of different points in IDW's preexisting Jem continuity.
«
Jem and the Holograms: Dimensions issues:
»
Overview
[
edit
]
As an anthology series, each issue contains two new, one-shot stories, each one from a different creative team.
Despite what the title may imply and the parallel universe themed story of the Jem: Infinite crossover, the series is still set in the same continuity as the rest of IDW's Jem comics rather than the larger IDW Hasbro Universe. These stories can be set at various points in continuity, which is indicated on the credits page for each story.
Creative team
[
edit
]
As an anthology series, the book features different artists and writers each issue. The first issue features a story written by Kate Leth with art by Tana Ford along with another story written and drawn by original IDW Jem artist Sophie Campbell. Issue #2 features a story written by Sarah Kuhn and drawn by Siobhan Keenan and another written and drawn by Sarah Winifred Searle. Issue #3 has writer Nicole Goux and artist Rebecca Nalty on it's first story and Sam Maggs with Rachel Stott and Marissa Louise on the second. The fourth and final issue features a a story written by Sina Grace with artist Hannah Templer and another written by Kevin Panetta with Abby Boeh and Heather Danforth drawing and coloring respectively. Editor Sarah Gaydos writes an introduction for each issue.
Kelly Thompson, the writer behind all of IDW's Jem comics prior to Dimensions, is not involved with the book. [1]
Collections
[
edit
]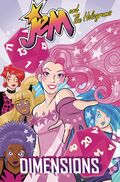 Contains issues 1-4
Bonus material: Unknown
References
[
edit
]