Jem and the Holograms (comic)
From IDW Hasbro Wiki
Jump to navigation
Jump to search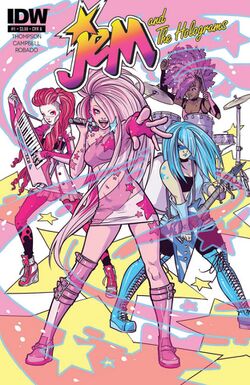 Jem and the Holograms is an ongoing comic series begun by IDW Publishing in March of 2015 based on the 1980s cartoon that was simply titled Jem, which in turn was based on a line of dolls produced by Hasbro. The series follows the rise to fame and personal lives of Jerrica Benton and her three sisters who, when Jerrica assumes her singer alter ego, become the band the series derives its name from.
Issue #26 is the last in the series but the story continues in Jem and the Holograms: Infinite, part of the "Jem: Infinite" crossover with its spin off series Jem: The Misfits.
Jem and the Holograms issues:
»
Overview
[
edit
]
Creative team
[
edit
]
The series is written by Kelly Thompson and drawn by a rotating series of artists. Sophie Campbell drew the book's first six issues and would later return to illustrate the "Dark Jem" story arc that lasted from issues #11 to #16. Issues #7 through #9 were drawn by Emma Vieceli with Corrin Howell providing the art for issue #10. Jen Bartel, who also provides the subscription covers for nearly every issue from #7 on, draws issues #17 and #18 as well as the Valentines Special. #19-#23 are drawn by Meredith McClaren. The final three issues of the series, #24-#26, are drawn by Gisele Lagace. Colors throughout the series are provided by M. Victoria Robado.
Collections
[
edit
]
Contains issues 1–6
Bonus material: Introduction by Kelly Thompson, afterword by Sophie Campbell, behind the scenes look from John Barber, cover gallery, and character profiles.
Contains issues 7–10, the 2015 Annual, and Holiday Special
Bonus material: Cover gallery
Hardcover with a normal pink cover and a convention exclusive green cover
Contains issues 1–10, the 2015 Annual, Holiday Special, and Valentines Special
Bonus material: Unknown
Contains issues 11–16
Bonus material: Cover gallery, character profiles
Contains issues 17–23
Bonus material: Unknown
Contains issues 24–26 and the 2017 annual
Bonus material: Unknown