M.A.S.K.: Mobile Armored Strike Kommand
From IDW Hasbro Wiki
The name or term "M.A.S.K." refers to more than one character or idea. For a list of other meanings, see Mask (disambiguation).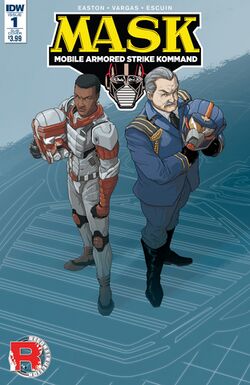 M.A.S.K.: Mobile Armored Strike Kommand is an ongoing comic series published by IDW Publishing, based on the 1985 Kenner toyline. The series began with a one-shot tie in to the Revolution event, followed by a number one issue. The series centers on Matt Trakker and the M.A.S.K. team as they battle against Miles Mayhem and his black ops squad V.E.N.O.M..
Following the First Strike crossover, M.A.S.K. will merge with G.I. Joe and relaunch as Scarlett's Strike Force.
M.A.S.K.: Mobile Armored Strike Kommand issues:
»
Overview
[
edit
]
General Miles "Mayhem" Manheim runs Project Spectrum, a classified program designed to train participants to combat threats to the Earth. Project Spectrum's recruits are outfitted with special Masks that not only grant the wearer special abilities, but allow them to control vehicles that can transform from normal-looking cars and motorcycles to advanced battle modes. A group of Spectrum recruits consisting of Matthew Trakker, Julio Lopez, Gloria Baker, and Brad Turner are put together as the Mobile Armored Strike Kommand, while Vanessa Warfield, Sylvester Rax, and Bruno Sheppard are recruited for... another team.
Creative team
[
edit
]
M.A.S.K. is written by Brandon Easton with pencils by Tony Vargas and colors by Jordi Escuin. Tommy Lee Edwards provides covers for the series, as well as backmatter for each issue.
Collections
[
edit
]
Contains the Revolution one-shot and issues #1-5.
Bonus material unknown.