Micronauts (comic)
From IDW Hasbro Wiki
Jump to navigation
Jump to search
The name or term "Micronauts" refers to more than one character or idea. For a list of other meanings, see Micronauts (disambiguation).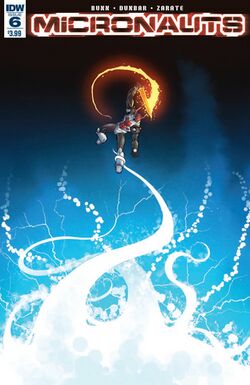 Micronauts is a 2016 comic series published by IDW Publishing, based on the '70s Micronauts toyline.
Written by Cullen Bunn, it follows the titular Micronauts, a ragtag band of space adventurers who wind up on a quest to save their universe, known as Microspace, from the enigmatic Entropy Cloud that is slowly consuming it. Following its debut arc, the Micronauts participated in the Revolution crossover event, starring in a special Micronauts: Revolution one-shot before appearing in the main event mini-series.
Issue #11 marked the end of the series, with the story continuing in the mini-series Micronauts: Wrath of Karza.
Overview
[
edit
]
In another universe called Microspace, the Entropy Cloud threatens to destroy all of existence. Due to conflicting ideas of how to stop the Entropy Cloud, war is being waged between the Ministry of Science and the Ministry of Defense. After a smuggling mission gone wrong, the crew of the Heliopolis finds themselves caught in the middle of this war due to the past of their captain Oziron Rael, the last of the psychic Pharoid race. After being tasked by the mysterious Time Traveler to save their universe from the Cloud, the crew find themselves in another world, populated by giants...
Creative team
[
edit
]
The series was written by Cullen Bunn, with JimmyZ Johnston joining with issue 10. The art for issue #1 featured breakdowns by David Baldeón with finishes by Fico Ossio, Max Dunbar, and Jack Lawrence. Subsequent issues were pencilled by Dunbar. The series has had multiple colorists, with David Garcia Cruz providing color work for most of the issues, as well as contributions by Joana Lafuente, Thomas Deer, John-Paul Bove, and Ander Zarate.
Collections
[
edit
]
Micronauts Volume 1: Entropy (December 14, 2016) ISBN 1631407554 / ISBN 978-1-63140-755-0
Contains issues #7–11 and the Revolution one-shot.
Contains all 11 issues the 2017 Annual, the Revolution one-shot and the Wrath of Karza mini-series.