M.A.S.K.
From IDW Hasbro Wiki
Jump to navigation
Jump to search
The name or term "Mask" refers to more than one character or idea. For a list of other meanings, see Mask (disambiguation).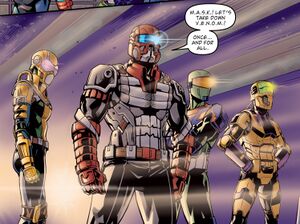 The Mobile Armored Strike Kommand, or M.A.S.K. for short, is an elite team of secret raiders. Made up of recruits from Project Spectrum, M.A.S.K. was put together to neutralize threats to the Earth. Armed with special powered Masks and transforming vehicles, M.A.S.K. is the first line of defense against the evil V.E.N.O.M..
The team is made up of several operators, codenamed after their unique mask:
Basically, they're masked crusaders working overtime, fighting crime!
The original M.A.S.K. team was formed from the surviving recruits of Miles "Mayhem" Manheim's Project Spectrum: Matt Trakker, Gloria Baker, Julio Lopez, Brad Turner, Vanessa Warfield, Sylvester "Sly" Rax, and Bruno Sheppard. Trakker served as the team's field leader, and each member of the team was given a specialized vehicle and Mask. After training for a year, M.A.S.K. was deployed to G.I. Joe's Governor's Island headquarters to serve as reinforcements in G.I. Joe's campaign against the Transformers. M.A.S.K.: Revolution
For M.A.S.K.'s first field mission, the team was deployed to Greece to capture Kup and Aileron. Though the vehicles did indeed prove invisible to Cybertronian sensors, the team only managed to capture Kup. The Divine Source of Liberty

Kup tried to inform the humans of the dangers of the Ore-13 deposits around the world, but Warfield and Rax were uninterested in what he had to say. O Ship of State

Upon conferring with his Dire Wraith allies about a large Ore-13 deposit beneath Autobot City, Mayhem sent M.A.S.K. to attack the Cybertronian stronghold. However, Trakker had reservations about the attack, which only intensified as they were joined by a horde of Wraiths. During the battle, their vehicles suffered extreme damage, the Rhino vehicle in particular being totaled by Optimus Prime, before Mayhem summoned Baron Karza, who enerchanged with the Dire Wraiths to become a giant monster. The New Colossus

After Optimus rallied Rom, Snake Eyes and Acroyear to fight Karza, Trakker joined them, ordering M.A.S.K. to follow Optimus (for now). Karza proved capable of destroying all the M.A.S.K. vehicles but Trakker's Spectrum Mask proved instrumental in stopping his plans and saving Earth. With Mayhem having seemingly sacrificed himself in the battle, the team was now left without a mission. Luckily, G.I. Joe recovered the remains of the M.A.S.K. vehicles, and Scarlett encouraged Trakker to continue on. Valley Forge

Meanwhile in Texas, the Scavengers Spinister and Misfire attempted to retrieve their rampaging friend, Grimlock and reshaped their holomatter avatars in the (rather poor) likeness of ficticious M.A.S.K. agents to navigate the human cities. Nothing Will Ever Be the Same Again!

After the "Revolution" event, what remained of the M.A.S.K. team returned to Project Spectrum headquarters. The Origin of V.E.N.O.M. Part 2
M.A.S.K. #1 M.A.S.K. #2 M.A.S.K. #3 M.A.S.K. #4 M.A.S.K. #5
The Origin of V.E.N.O.M. Part 1 The Origin of V.E.N.O.M. Part 2 The Deathstone
When the Revolutionaries were attempting to hunt down Garrison Kreiger, Scarlett called upon Matt Trakker and Gloria Baker to aid them in infiltrating Kreiger's Project: Iceman facility in Brasnya. Their Thunderhawk and Shark vehicles proved invaluable in rescuing Ian Noble and fighting off the Talisman-controlled remains of Domitius Major and "Shockwave". Power and Glory

Though M.A.S.K. disbanded, Scarlett once more called on Matt and Gloria to aid in facing off against Baron Ironblood's attack on the planet Cybertron. First Strike #2

After storming Castle Destro for the M.A.S.S. Device, the alliance arrived on Cybertron where Gloria used her knowledge of M.A.S.K. technology to hack one of Colton's Trojan horse robots and discovered the villains were heading to Cybertron's core. First Strike #3

First Strike #4

First Strike #5

First Strike #6

Other than for the acronym, we don't know why "Kommand" is spelled with a "K" either. Kup claims that he taught them how to spell it, and the Scavengers suggest that it might be Russian, but we invite you to draw your own conclusions.