Outlaw
From IDW Hasbro Wiki
Jump to navigation
Jump to search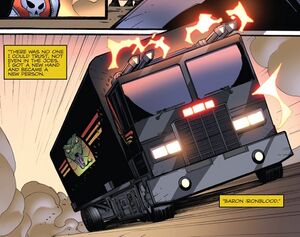 The Outlaw is Miles Mayhem's latest vehicle of war. The Outlaw is a black flat-nosed truck perfect for ramming through enemy blockades and frontward assaults. Its trailer allows it to provide transport for personnel or objects of importance.
During the assault on Cybertron, Mayhem used the newly minted Outlaw as a transport for himself, Colton, Garrison Kreiger, and the Talisman. After Shazraella had hijacked the body of a Transformer, she removed the Talisman from the Outlaw's trailer before the group began their trek underground towards Cybertron's core. First Strike #2

In the original M.A.S.K. series, the Outlaw was V.E.N.O.M.'s counterpart to the Rhino, driven by Miles Mayhem and Nash Gorey.
Sadly, unlike the toy, the Outlaw in IDW continuity does not have a giant "Snake Oil" logo printed on its side.