Rom & The Micronauts
From IDW Hasbro Wiki
Jump to navigation
Jump to search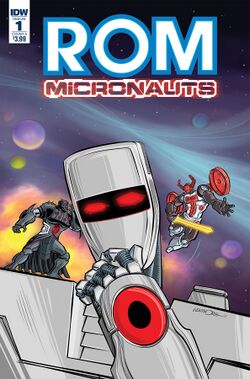 Rom & The Micronauts (stylised on the cover as ROM MICRONAUTS) is a 5-issue crossover miniseries from IDW Publishing. Running from December 2017 to May 2018, it followed up on from the alliance established between Rom and the Micronauts during First Strike, integrating together the previous ongoings ROM and Micronauts.
«
ROM & The Micronauts issues:



ROM & the Micronauts
Overview
[
edit
]
The villainous Dire Wraiths and Baron Karza have joined forces to accomplish their goals of awakening the Wraith deity and conquering Microspace. In response, Rom the Space Knight and the Micronauts team up to battle their foes.
Creative team
[
edit
]
Collections
[
edit
]