Rom vs. Transformers: Shining Armor
From IDW Hasbro Wiki
Jump to navigation
Jump to search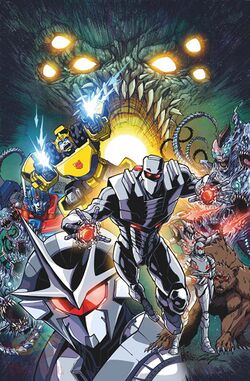 Rom vs. Transformers: Shining Armor is a five-issue comic crossover miniseries that ran from July to November 2017. It focused on characters from IDW Publishing's Transformers titles meeting characters from IDW's ROM.
Rom vs. Transformers: Shining Armor issues
Overview
[
edit
]
During the mid-19th century, the Solstar Order has begun expanding outside their home territory in their ongoing war against the Dire Wraiths. Along the way, Space Knight Rom discovers and rescues an orphaned infant Cybertronian named Stardrive, who is subsequently raised as a Space Knight. However, the Solstar Order comes into conflict with the Cybertronians when Decepticon officer Starscream learns of Stardrive and desires to possess the Order's Energon source.
Creative team
[
edit
]
John Barber, writer of Optimus Prime and Revolutionaries, and Christos Gage, co-writer of ROM, jointly write Shining Armor while art is primarily provided by Alex Milne, main artist from More than Meets the Eye.[1]
Collections
[
edit
]
Contains issues #1 to #5.
Bonus material includes most of the cover art from each issue.
References
[
edit
]