Tales of the Solstar Order
From IDW Hasbro Wiki
Jump to navigation
Jump to search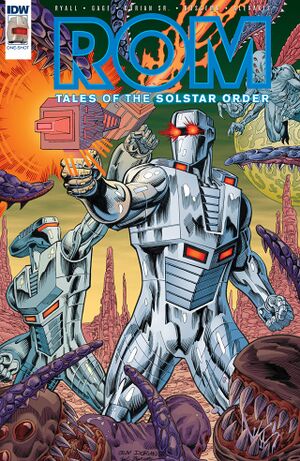 Tales of the Solstar Order is a series of back-up strips published in IDW's ROM beginning in ROM #11. ROM writers Chris Ryall and Christos Gage pen the series with art by Guy Dorian, Sr., Sal Buscema, Alessandra Alexakis and Shawn Lee.
Tales of the Solstar Order stories:
Overview
[
edit
]
Battle Scars

[

edit

]
Taking place on the strange planet of Verdulun-5, Battle Scars tells the story of Rom and Fy-Laa's last mission together. Arriving the two find the world reads to their Energy Analyzers as both a Wraith and not a Wraith only for the world to reveal it is governed by a hive mind which assimilated several Dire Wraiths into itself years prior. Though Fy-Laa is overjoyed at the discovery, Rom is skeptical...a fear that proves well-founded when the planet assimilates Fy-Laa into its collective and has him down Rom. Intending to assimilate both Knights so as to spread its influence throughout the galaxy, Rom realizes Verdulun-5 has absorbed the Wraith desire for conquest as well. Briefly freeing Fy-Laa from its control, Rom has no choice but to destroy the planet but swears to never destroy another world. In the aftermath however, a Wraith Sorcerer arrives and finds the remains of Fy-Laa's armor...
Only Battle Scars was released prior to ROM ending.