G.I. Joe: Cobra
From IDW Hasbro Wiki
Jump to navigation
Jump to search
The name or term "Cobra" refers to more than one character or idea. For a list of other meanings, see Cobra (disambiguation).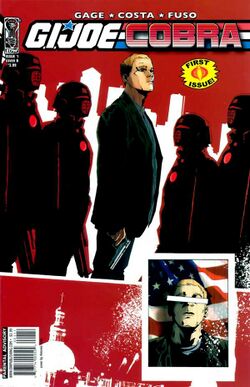 G.I. Joe: Cobra is a 2009 comic mini-series published by IDW Publishing, which follows undercover operative Chuckles on a mission to infiltrate the titular terrorist organization. A short prelude story was published in G.I. Joe #0, and a G.I. Joe: Cobra: Special tie-in issue was released following the conclusion of the mini-series.
G.I. Joe: Cobra issues:
»
Overview
[
edit
]
Creative team
[
edit
]
The series is co-written by Mike Costa and Christos Gage, with Antonio Fuso on art. Chris Chuckry colors the first three stories, followed by Lovern Kindzierski on issues #3 and #4. Costa, Fuso and Kindzierski returned for a Cobra: Special issue spotlighting Tomax and Xamot.
Collections
[
edit
]
Contains "Deep Cover", issues #1–4, and Cobra: Special #1.
Bonus material includes a cover art gallery, Antonio Fuso's concept art of the redesigned Crimson Guard uniform, and "The Design of Tomax & Xamot" (thumbnails of the mirrored pages from Cobra: Special #1 placed side-by-side to better show the issue's symmetry).
G.I. Joe: Cobra: The Last Laugh (December 27, 2012) ISBN 1600105351 / ISBN 978-1600105357
Contains "Deep Cover" and issues #1–4, as well as Cobra: Special #1–2, Cobra II #1–4 and #10–13, and Cobra vol. 2 #12.
Bonus material unknown.