Revolutionaries (comic)
From IDW Hasbro Wiki
Jump to navigation
Jump to search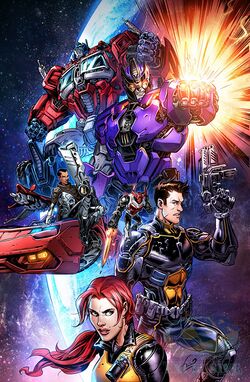 Revolutionaries is an ongoing comic series, spinning out of the Revolution event. The series focuses on a team of characters from several of IDW Publishing's Hasbro Universe titles.
«
Revolutionaries issues
»
Overview
[
edit
]
A crisis in Schleteva brings together an unlikely team – G.I. Joe's Mayday, the Titan Master Garrison Blackrock, super-spy Action Man, and his new best friend Kup – who must unravel the mystery of the Talisman, with a little help from the likes of Rom and the Micronauts.
Creative team
[
edit
]
John Barber continues as writer from Revolution, with Fico Ossio continuing on art.
Collections
[
edit
]
Contains issues 1–4
Bonus material consists of art from most covers.
Revolutionaries, Vol. 2: Power and Glory TPB (November 1, 2017) ISBN 1684050154 / ISBN 9781684050154
Contains issues 5–8
Bonus material UNKNOWN